Yaay!! It is a Friday and so certain we have one owanbe or the other slated for the weekend. Weddings in Nigeria happen to be one event majority are excited about: simply because of the Nigerian idea of fun. Interestingly there are some peculiarities that have come to stay because of this.
Below are 5 things to look out for at your next owanbe– Nigerian wedding party.

The Wedding Crashers
These are the uninvited guests. They would always be there, invited or not. Everybody knows that when planning a wedding in Nigeria, you plan for the 'well wishers' you didn't invite. It's nearly impossible to have a Nigerian wedding without a good portion of guests who know neither the bride nor the groom. This norm has come to stay and funnily it makes the party more fun.

The Aso-Ebi
Even non-Nigerians are beginning to embrace this very Nigerian concept. Although it literarily translates to 'clothes for the family', aso-ebi has gone beyond what only relatives of the bride and groom wear. The aso-ebi is a movement and a very welcome revolution all on its own. Most people now use the  aso-ebi  as an invitation of some sort, that is, without the attire one cannot gain entrance to the wedding party.

Ring Exchange Ceremony Versus Reception
Even though it is general knowledge that the real 'wedding' takes place at the church or any other location assigned for the vow and ring exchange ceremony, Nigerian weddings don't really start till you get to the reception or at least that is what most people assume. This accounts for the low turn out at the ceremony only for the bride and groom to arrive at the reception venue to a hall full of guests.
The War Between The Makeup And The Dance Floor
This is a given! Who wouldn't want to look her best on her big day? The dance floor is another major, where the bride is the center of attention, she wouldn't want to share that day with anyone .The struggle becomes real when you witness the battle between looking good on your wedding day and dancing for joy at being married finally. But you just have to hail Nigerian brides who manage to have their full makeup intact even after several hours of dancing with their groom. Why is this an achievement? We all know the Nigerian climate is hot and an activity such as dancing not only gets you sweaty, it reduces your chances of looking your best as well. So to all our Nigerian brides slaying despite the odds, we salute you.
The Money Changers
Irrespective of your location, money changers will most likely grace your wedding. We are yet to know the very smart person who came up with the idea for this, but we can assure you that it is meeting a need. For a percentage of your money, money changers provide you with crisp Naira notes to spray at the event while making sure you don't have to go far to get 'change'. Another point in favour of this group of people is that you don't have to find or call for them, they simply find you.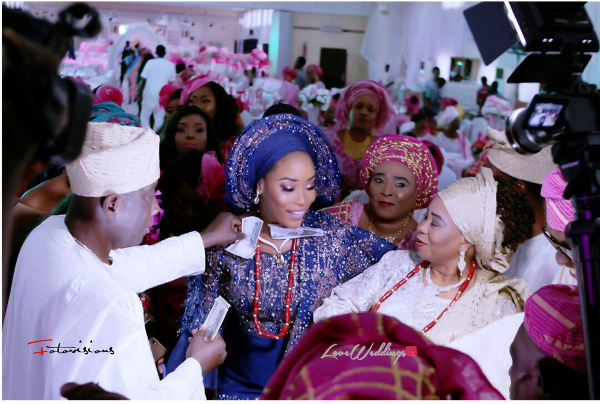 All these are what I have been able to deduce from attending several Nigerian Wedding party. Feel free to share your observations in the comment section.