Do you work in the corporate world? Are you a CEO who needs to tick all the fashion boxes for that interview or a meeting with potential investors? If your answer is Yes, you are on the right page.

Looking like a fashion goddess does not have to be a chore. With RTW (Ready to Wear) fashion pieces readily available for purchase and creative selections, your wardrobe can experience a switch. In this article, you will discover four classy pieces with names from notable dates that change the fashion game. 
Here are four fashion styles to choose from:
FLARE ME UP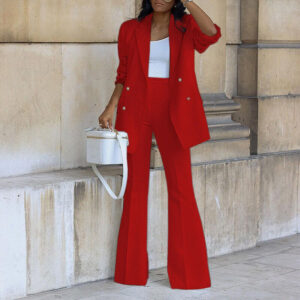 Fashion and style may have two different meanings but always work together. If you are going for a "notice me" vibe then this look is definitely up your alley. The look exudes the "she is a boss lady whose feet light up the ground she walks on" energy. 
Now, we all know that fashion, style, and your body type, work with the weather. However, for this look, a switch from the sweater to a light camisole or a silk fabric is preferable. This makes the style simpler while gliding through the body frame easily. The pants are between comfort and style, which is perfect for any professional setting or event. 
TEAL, WE MEET AGAIN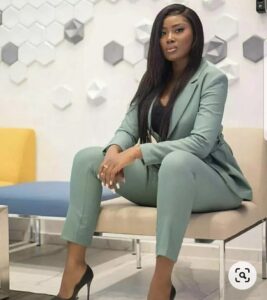 Teal is one of the super fashionable colours. Unfortunately, not every skin tone blends perfectly with the colour, although, if your complexion is between caramel and chocolate, the contrast always saturates perfectly. Now with a Teal suit? You are definitely "eating" the look, (pardon my ebonics or not?)
A teal-fitted blazer paired with cigarette pants also known as pencil pants or a pencil skirt never goes wrong. This choice not only accentuates the body frame but exudes a style that says "I am all about my business but I have a warm side too". It is perfect for meetings and corporate events. 
THE BULLET SUIT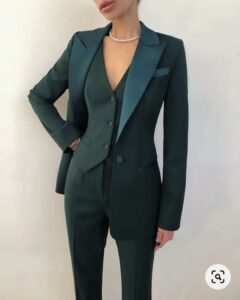 Think about the versatility of the bullet suit aka "three-piece suit"
This look is rare and preferably for weddings and professional outings but who says it cannot be worn to the office at the beginning of a new week? 
If you love the conservative but daring look, the three-piece suit is definitely for you. Guess what? It is great for a Monday morning. A study in the fashion world reveals that a great outfit releases dopamine- the feel-good hormone and leaves you happy. Therefore, wearing a three-piece suit with cigarette pants and stilettos on a Monday morning gives a "ready to conquer the week" vibe.

Are you "unbothered about rocking an outfit twice" type? You can dry clean and wear the same suit to any event on the weekend. Yes, you can!
PRINTS 'R' US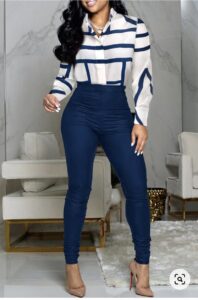 This style is one of the easiest and most comfortable styles; A chiffon or silk blouse tucked in fitted pants or a fitted skirt. The chiffon or silk blouse could either be plain or with prints. Many corporate women enjoy wearing this style because of its ease and versatility. You can wear it this way or decide to drape a blazer over it, either way, you would still look dashing. It is one of the styles that accentuates the body and a lot of women have tilted toward it because it exudes class and fun. You can wear this to events, meetings; even on a Monday morning. No issues!
Being careful to match the colours perfectly while selecting a top to pair with your pencil pants or skirt is the way to go. Take a look at the lady in the image above; her plain fitted pants and silk blouse with bold prints look good on her. This combination works as it oozes class. Above all, use vertical and horizontal prints sparingly. 
Which of these is your favourite look? Share by leaving a comment below.