What to wear, how to wear it, what combination to try on, where to buy your preferred outfits and accessories are things that bother us when it comes to looking your best. Here are a couple of stores/brands to visit for your exquisite fashion pieces. However It depends on your style, your size and your wallet. Here are a few brands you can visit for quality and sophisticated pieces:
Ejiro Amos Tafiri is a clothing brand, they are absolute chic pieces, quite colourful having this happy feel to it. EAF is located at 3 Ribadu road, Awolowo Ikoyi and 9 Adeboye Solanke off Allen Ikeja. So if you reside around Ikoyi  and Ikeja then you are just in luck!
Ayaba
If you love owanbe (African parties), style by Ayaba piece are totally your ready made go to party outfit you need. Their store is located at Mud plaza 12b Fatai Idowu Arobieke street, Admiralty road Lekki.
Miskay Boutique
Best known for her urban trendy pieces is located at 69 Admiralty way, Lekki phase 1.
Laura Ikeji
The outlet is located beside Debonair's pizza on Admiralty way in Lekki and aims to sell pre-used high end fashion items by celebrities
Sshhh Boutique Limited
The luxury lingerie boutique offers a variety of options to spice up your wardrobe, from bras (cup sizes A-K), elegant lingerie, quality under-wears, sumptuous night-wears, sultry swim-wears to stunning bridal wears from top local and international designers. Its flagship store in the heart of Lekki Phase 1, Lagos.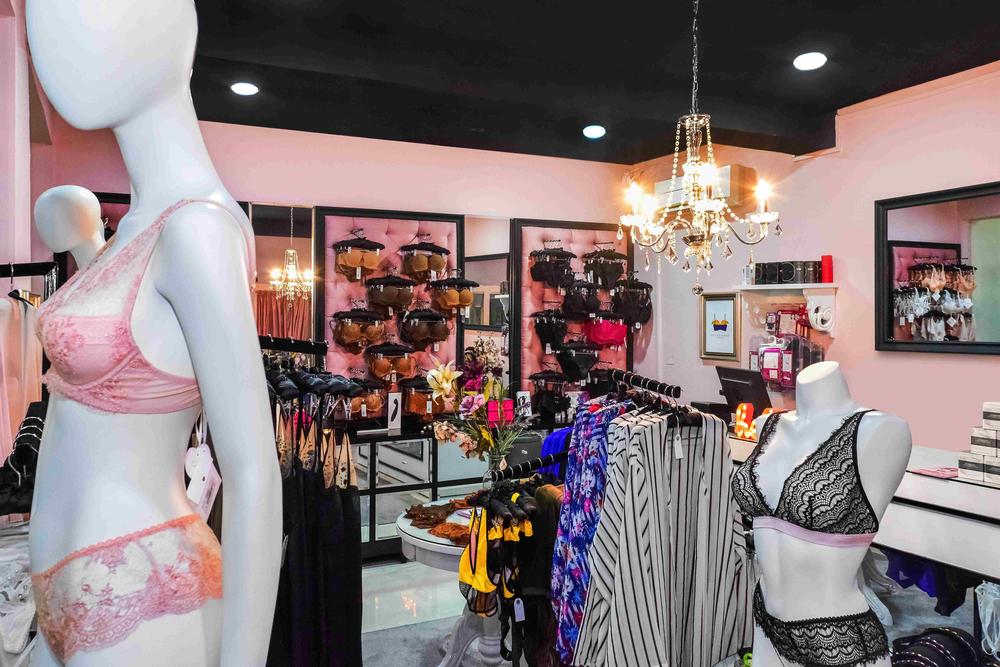 Bibis Couture
Bibis Couture provides services on sale of clothings, perfumes and accessories at F9 Lagos City Mall, Opp Muson Center, Onikan Lagos.
Indigo Boutique
Indigo Boutique has 3 branches, one on Wole Ariyo steet, off Admiralty Way, Lekki Phase 1, the second on Herbert Macaulay way in Yaba, and my favorite branch is at Rasul House (opposite Man House), 96 Obafemi Awolowo way, Ikeja, Lagos. Indigo is pocket-friendly, they stock pieces to cater to a wide variety of tastes and needs.
The concept store in Victoria Island, Alara features the best-known global fashion brands alongside really special design pieces from all over the African continent.  :
April by Kunbi
April by kunbi is quite famous for her classy and gorgeous dresses. Retail Store located at Elizabeth's Place, 22B Admiralty Way, Lekki Phase 1, Lagos.
The brand name speaks for itself, they have pieces for every size and they reside at 30C Opebi Rd, Opebi, Ikeja.
Don't forget to let me know your favourite shopping spot in Lagos in the comment section. Remember shopping is an art so have fun!!
Photo source: Google images